VETTA was developing a new series of bike computers and heart rate monitors. As part of a creative design team collaboration, we were responsible for:

Conceptual design, including ergonomics
Sensor integration
Wired and wireless sensor packaging
Mounting configurations (with an innovative shock mount stem or handlebar combination clamp system)
Electronics packaging
The product feature list was extensive, including: cumulative altimeter, and cadence functions. We also spent some time in Taipei,Taiwan working with the vendors on the electronic integration, and packaging, and coordinating the production. The results were quite a bit better than even we imagined. The product line was received very well, with the flagship V100A altimeter version winning best of show at the annual InterBIKE trade show.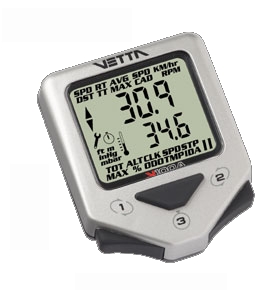 See more at the Vetta Web site!